You may forget your login username or password from time to time. Many users are in this predicament. This is a typical issue among long-term internet banking users. Every time they log in, they may need to reset their username and password. SBI's online banking service gives account users convenient access to financial services. SBI's online banking service allows you to do everything from transferring funds to creating fixed deposits. However, in order to access these services, the username and password must be remembered. In case you forget these details, you can reset them utilizing SBI's online banking service. Read on to know how to change your username in SBI net banking!
Why should you change your SBI net banking password?
With the increased potential of cyber-attacks, the SBI online banking system may advise you to change your password regularly.

Before logging into SBI online banking, you must reset your password if you've forgotten it.

If you frequently input the wrong password, your account will be locked. If you can't remember your previous password, you must change your login password.

Moreover, if you feel that someone knows your SBI net banking password, or if it is simple for someone to guess, you should change it immediately.

If you recently accessed your SBI online banking using public Wi-Fi, your data, including your user id and password, might have been taken by unknown networks. It is to your best advantage to update your SBI net banking login password as soon as possible.
How can you change your SBI online username?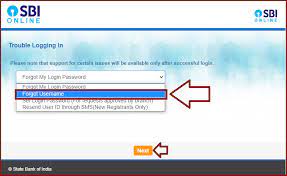 If you want to change your login username, follow the instructions below.
To begin, navigate to the SBI internet banking official login page.

You will see the SBI internet banking login scre

en.

In the Personal Banking area, click the Login button.

Then click the Login button again.

Navigate to and choose the Forgot Login Password option. It will take you to another page.

Then, from the drop-down menu, select Forgot Username.

Then, input your CIF number. (Your CIF number may be found in your passbook.)

Using the drop-down menu, select your nation. Enter your registered cellphone number next.

Then type the words displayed in the picture. Finally, press the Submit button.

Check your mobile message inbox for a bank OTP. Enter the OTP in the box. To proceed with the procedure, click the Submit button.

Finally, enter your new Username in the appropriate area. Retype your new username to confirm.
How can you change your SBI net banking password?
Go to your own SBI net banking portal.

Click "Forgot Login Password" on the Login page.

You'll be sent to the new drop-down menu. Click "Next" after selecting "Forgot My Login Password."

You must provide information such as your username, bank account number, date of birth, cellphone number, and country. Make certain that every detail is entered appropriately. If any of your details do not match those in the SBI database, you will be unable to change your password.

Following the submission of your information, you will be sent an OTP (One Time Password) to your registered cellphone number.

Enter the OTP in the space provided on the screen.

A new drop-down menu will appear with choices to update your login password. Choose "Change login password using profile password."

Enter the proper profile password.

Lastly, you can change your password and retype it to confirm it.

Your new login password has been reset, and you may now use SBI net banking with a new login.