Yes Bank, located in Mumbai, India, was formed in 2004 by Rana Kapoor and Ashok Kapoor. Through retail banking and asset management services, it provides a diverse variety of specialized solutions to corporate and retail consumers. Do you want to close your Yes bank account online? If so, you've come to the right spot. In this piece, we will go through all of the methods a user can close a YES Bank account.
Can I close the Yes Bank account online?
No, you cannot close your Yes Bank account online. To close the account, you must go to the bank's branch in person. As a result, I propose that you visit the branch where you opened your bank account.
Are there any charges for closing the Yes account?
Yes, there are fees associated with canceling the yes bank account. For example, if you cancel your yes bank account 30 days after opening it, you would be penalized 590 rupees. Although, the bank does provide a zero-balance account. You don't have to worry about keeping a minimum balance or paying a fee if you go below the permissible limit in that account. However, you will not receive interest on the money in your yes bank zero balance account.
What is the minimum balance in Yes Bank?
The required minimum balance is Rs. 10000 (which can be waived by keeping a fixed deposit of at least Rs. 50,000 or a monthly recurring deposit of at least Rs. 5000).
How to close a Yes Bank account?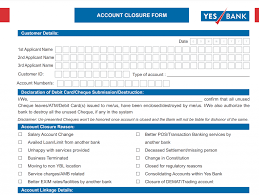 Download the Yes Bank Account Closure Request Form from the YES Bank official website. Or visit a nearby Yes Bank office to pick up the form in person.

Now, print and fill out the Yes Bank Account Closure Form PDF that you just got. Then sign in the required spots and hand the paperwork to the officer-in-charge. Please bear in mind that if you have a shared account, all joint account holders must sign the Yes Bank Account Closure Form.

Attach a copy of the KYC papers to the Yes Bank account closing form. PAN Card and Adhaar Card are two of the most typically approved KYC documents for opening a Yes bank account. Account holders may be asked to self-attest these documents as well.

The officer in charge may request that you submit your remaining Cheque Leaves, Debit Card, and Passbook in order to cancel your Yes Bank account. Your yes bank account closure application will be processed only after you have returned all of these things.

The bank official will check the documentation you submit to cancel your yes bank account and will instruct you to remove any leftover funds. You can either withdraw cash or have the funds moved to another account.

The bank will take some time to complete your request to shut your yes bank account. The request will be forwarded and processed at a higher level. Following verification, the remaining balance amount will be debited from your account in accordance with the option you specified in the form.

Your yes bank account will be successfully canceled, and you will also be notified.