While we are moving toward a cashless economy, we cannot entirely remove cash deposits. After all, whether it is moved online or offline, cash is cash, and it is required for living. You can deposit cash by visiting a bank branch or an ATM that accepts cash deposits. This article describes CDM and how to use them to deposit money into your bank account.
What is Cash Deposit Money?
A Cash Deposit Machine (CDM) is a self-service machine that allows you to make deposits into your bank account. Stand-alone CDMs can be found in ATM vestibules, or you can utilize an ATM-cum-cash deposit machine. The money is counted automatically by a slot in the machine, and your account is credited immediately as well.
How does a Cash Deposit Money work?
When you use the CDM, you must enter your account number or insert your debit card, and the machine will read and authenticate your financial information. The CDM has a slot for you to insert your money notes, which will automatically count. On the CDM page, you can get a summary of your total denominations. Therefore, if the amount is accurate, confirm it, and the funds will be sent to your bank account.
How to deposit cash in CDM?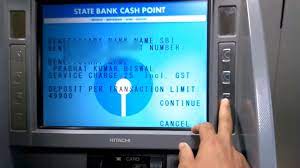 Don't worry if you're wondering how to deposit cash in CDM; it's a simple process. You can deposit funds using either your debit card or your account number. Simply deposit your funds into the Cash Deposit Money and follow the easy instructions that appear.
Insert your debit card and enter your PIN to verify it.

Then, choose an account type (Saving or Current).

Insert the cash into the cash deposit slot and click "Continue."

The machine will sort the cash and display the amount to be put in denominations.

If everything is accurate then, click "Deposit."

The sum will be deposited.

A receipt will be issued.
Why to use CDM?
You may simply discover your local cash deposit machines, just like ATMs, by visiting your bank's website or using your mobile or online banking platforms. When you use a CDM to deposit cash, you can:
Spend less time waiting in big lines at the bank.

Avoid filling out deposit slips.

Don't bother separating the denominations.

Also, receive credit into your bank account immediately.

Moreover, get your transaction receipt as evidence of a cash deposit.