IDBI bank customers have access to Internet Banking. It allows them to access and manage their accounts from anywhere and at any time. You can keep up to date with your bank account by using the Internet Banking service. The good news is that IDBI Bank does not impose any fees or charges for using Internet Banking. Hence IDBI bank users can access the Internet Banking option for free after registering. Unlike other banks, you do not need to visit a branch to activate your Net banking account. Thus, IDBI Bank Netbanking can be readily activated online. However, you'll need a smartphone or laptop with an active Internet connection to get started. Read on to know more!
Features of IDBI net banking
Account balances are easily accessible. All account queries and statuses are now easily accessible. Transactions and their histories are easily trackable. Also, loan installments and the flow of your cash are available.

Net banking now provides access to DEMAT account information. You may view the name, address, and account numbers linked with the account.

There are Holding Statements available that indicate the specifics of the DEMAT scrip, including the applicable ISIN code, scrip name, and balance.

Statement of Transactions includes a list of transactions for a certain time period, as well as security and balance data.

Net Banking offers an online payment service that is linked to a variety of merchant websites/e-commerce sites via the bank's direct payment gateway.

Net Banking is accessible to online businesses or service providers who require online payment solutions, such as e-commerce shops.

IDBI Bank clients can use the Electronic Bill Presentment and Payment (EBPP) service.

EBPP enables online payment of utility bills such as power, insurance, and water bills.
How to register for IDBI net banking?
You can register for IDBI Bank Internet Banking online. You must have your bank passbook, ATM card, and cellphone number linked to your IDBI bank account for this. The procedure is easy to follow. Simply follow the instructions outlined below.
Navigate to the official IDBI Bank website and click on the Personal Banking Login button.

You'll be taken to the Internet Banking Login Page.

Then, click the "First Time User?" button. The "Register Now" button is found at the bottom of the login page.

You will now be taken to the Internet Banking Registration Page.

Details such as Title, Customer ID, and Account Number must be entered here. All of the information is on the first page of your bank passbook.

After filling out all of the information, click the "Continue" option.

On this screen, you must enter ATM card information, such as the ATM Card Number and PIN. After filling out the form, click the Continue option.

Now input the "One Time Password (OTP)" that was sent to your registered cellphone number.

Enter the OTP and press the Continue button.

Create two passwords. The first of them is the Sign in Password, and the second is the Transaction Password. The password must be unique. Moreover, it must include at least one capital letter, one small letter, a number, and a special character.

Create them, confirm them, and then click the Continue button.

You have finally successfully registered for internet banking. Your account will be active within the next 24 to 48 hours.
What is the IDBI Bank net banking login process?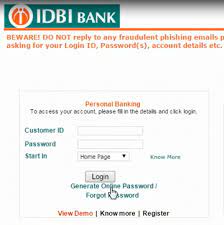 The steps for logging into your IDBI Bank Net Banking account are as follows:
Visit the IDBI net banking login page.

Select the account type for login and click the 'Login' button.

After reviewing the security requirements, the user must click the 'Continue to Login' option.

Finally, enter your email address and password. Then, click 'Login.'
How can you check your balance through IDBI Net Banking?
Customers of IDBI Bank can check their account balances using the net banking platform. They can complete the registration process first. They must connect to the net banking portal after enrolling for it. Their IDBI account balances will be shown on the home page. Moreover, IDBI users may review their prior transactions and obtain their bank statements.