For EPF account holders, the Universal Account Number (UAN) is crucial since the whole Employee Provident Fund (EPF) services procedure is now conducted online. UAN makes it simple to use your PF account services, including withdrawal, monitoring your EPF balance without an employer's assistance, and applying for a loan. Read on to know how to generate UAN.
What is a Universal Account Number?
The 12-digit Universal Account Number (UAN) is a special identification number. The Employees' Provident Fund Organization assigned this number (EPFO). This number is given to both the employer and the employee which enables them to make contributions to the EPF account. Employee Provident Fund (EPF) is identified and kept safe by its UAN number. Therefore, even if many PF accounts are established for you by various employers, they will all be associated with a single UAN number. 
Importance of UAN
The introduction of UAN has made it easier to track an employee's EPF accounts than it was previously. With the aid of UAN, the member may quickly and conveniently transfer his PF from his previous accounts to the new one online. Thus, by activating his UAN, the member can access all of EPFO's online services.
To examine the credits and debits in the PF account, Universal Account Number is necessary. Individuals can withdraw and transfer money using UAN without depending on their job. Employees may access their PF accounts freely thanks to online processing. Likewise, employees can monitor monthly deposits using UAN.
Can you create UAN online?
Yes, UAN can be created online with so much ease. To use the online services offered by EPFO, UAN registration is required. Therefore, UAN activation and registration are only done online. Employees can check their PF account balance totals with their 12-digit UAN number. The process to get UAN online is pretty simple. Also, read on to know about it.
Documents required for Universal Account Number
Information about a bank account, including the branch name, account number, and IFSC code.

Your PAN card and it should also be linked to your UAN.

Lastly, your Aadhar card
How to generate UAN online?
The actions below must be taken by the employer in order to register an employee for a UAN:
Using the Establishment ID and password, access the EPF Employer Portal.

In the "Member" area, select the "Register Individual" tab.

Enter the employee's information, including their PAN, Aadhaar, bank information, etc.

In the "Approval" section, confirm all information.

Finally, the EPFO generates a new UAN, which the employer can use to connect the employee's PF account to.
How to know your Universal Account Number?
The company typically gives the employee their UAN and PF information after the UAN is generated and their EPF account is connected to it. However, by following the easy methods listed below, you may quickly determine your UAN:
Go to the EPFO Member Portal to find out your UAN.

Select the "Know your UAN" option.

Enter your registered mobile number and solve the captcha. Now click the "Request OTP" button.

In order to verify your entry, enter the OTP you get along with a captcha.

At last, click "Show my UAN" to learn your UAN after entering your Name, DOB, Aadhaar/PAN/member ID, and the captcha for verification.
How to activate your UAN?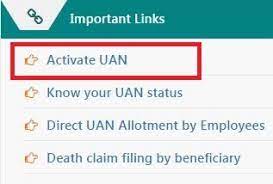 By doing the actions listed below via the UAN member portal, an employee can activate their UAN:
Check out the UAN eSewa site.

Select the "Activate UAN" link.

Enter the necessary information (PAN or Aadhar or Member ID)

Click "Get Authorization Pin" to send an OTP to the registered mobile number.

To activate UAN, enter your OTP and click the activation button.
Benefits of UAN
All your EPF accounts are monitored in one place.

The employee can view their EPF passbook online.

A partial PF withdrawal can also be requested online.

EPF account transfers can be completed online.

The EPFO claim status can also be viewed online via the EPF member site.