With its headquarters in Mumbai, India, Kotak Mahindra Bank Limited provides banking and financial services in India. It provides banking products and financial services in the fields of personal finance, investment banking, life insurance, and financial advisory for corporate and retail consumers. The Kotak Mahindra Bank's Kotak 811 account has a zero balance. It is a completely cost-free, lifelong digital savings account. Everybody may create 811 digital savings accounts online, but only Indian residents may do so. After completing full KYC, it will be upgraded into an 811 Edge digital savings bank account based on user needs. Additionally, the digital savings account enables easy money transfers, bill payments, and other tasks. You must provide your Aadhaar Card, PAN Card, and other information while creating a Kotak account online. 
How is Kotak 811 different from a Regular Account?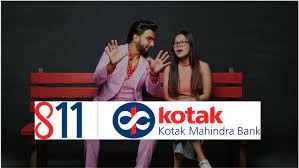 You don't need to have a minimum amount with a Kotak 811 account, which is one of the biggest distinctions between one and the other.

The Kotak account allows you to start an account with no balance and receive an annual interest of 3.5%. However, there is a minimum balance that you must keep in your normal Kotak account each month.

Your Kotak Mahindra Bank app allows you to carry a digital debit card. As a result, you are no longer concerned that you may misplace or forget your debit card.

At no point may the account balance surpass Rs 10,000. Therefore, a full KYC must be finished within a year of the account's establishment.
Where can you find your Kotak 811 Bank Account details?
Open the Kotak 811 app and log in with your CRN and MPIN to view the Kotak Mahindra 811 Bank account information.

Then, select 811.

You may now obtain the IFSC code and bank account number.
What are the charges for closing Kotak Account?
If you shut your Kotak Mahindra bank account after one month and before six months after account establishment, you will be charged 1200 INR. Keep in mind that – With a 30-day notice to account holders, all costs are subject to change.
Kotak 811 Bank Account closure form
Kotak 811 account termination form PDF may be downloaded here. It is used to close any bank account with Kotak. So simply download and complete it. Then go to the bank and submit it together with the necessary paperwork.
How to close Kotak 811 Account?
You may quickly and easily close your Kotak 811 account. We will discuss how to terminate a Kotak 811 account online below:
Before closing your Kotak account, make sure all money has been removed. Additionally, you can use UPI, NEFT, RTGS, or IMPS to transfer your whole balance to another account.

From the official Kotak website, you can get a copy of the Account closure form, which you can then fill in and submit to your neighborhood branch. 

Once your account balance has been emptied, go to the closest bank, get the account closure form, and fill it out correctly.

Attach a copy of your KYC papers, such as a copy of your PAN, which acts as both a proof of identity and a proof of address, to the Kotak 811 Account Closure Form. You will also need to verify these documents.

Send the form, your debit card, your passbook, and your checkbook to the bank executive. It is crucial to bring identification with you because the bank executive can require it.

Your bank account will be closed within ten working days after you complete the account closure form and the other necessary papers. You will also be sent a copy of the confirmation.
You can contact Kotak Mahindra Bank customer service at 1860 266 2666 to receive a solution to your queries.