If you want to make an investment in a Public Provident Fund account, you'll want to know everything there is to know about this scheme. We have all the information that you might wanna know to open a PPF account.
You may create a PPF account both online and offline. The conventional offline approach is going to your local bank office or Indian Post Office and filling out and submitting the PPF account registration form together with the necessary KYC papers. You can also create a PPF account online. We will look at both approaches.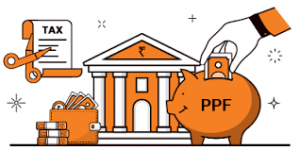 How to open a PPF account offline?
A PPF account may be opened by a person at a post office, at private banks like ICICI, Axis, and HDFC, as well as in nationalized banks. It is to be kept in mind that the banks are just middlemen that assist you in opening a PPF account, the funds you deposit go to the government, not the specific bank.
Creating a PPF account offline is a straightforward process. The steps to opening a PPF account are as follows:
Visit a post office or the closest to pick up an application.

Complete the form by attaching the required KYC papers and a passport-sized photo of yourself.

A PPF account requires a minimum deposit of Rs. 500 and a maximum deposit of Rs. 70,000. The most you may invest each year is Rs. 1.5 lakhs.

After submitting these papers, you will receive a passbook with the account information.

That's it. Now you can make your investments accordingly!
Documents required to open a Public Provident Fund account
The following set of papers should be obtained while starting a PPF account:
PPF account registration form 

Aadhaar Card, Voter ID Card, or Driving License are examples of KYC papers that confirm a person's identification.

Address proof (PAN card)

A passport-size photo
Applicants should be aware that each document requires self-attestation. Additionally, while creating an account offline, you must have all of the original documentation.
Banks that support the opening of PPF Accounts for their Clients
Banks that are eligible for registering a PPF account are SBI, ICICI, HDFC, BoB, Axis Bank, IDBI, BoI, PNB, Canara Bank, Allahabad Bank, Canara Bank, Central Bank of India, Union Bank of India, Oriental Bank of Commerce, Bank of Maharashtra, Dena Bank and Vijaya Bank.
How to open a Public Provident Fund account online?
One has to have a savings account with a bank or post office in order to create a PPF account online. Also, they should be able to access their account via the internet or mobile banking. It should be mentioned that the procedure for creating a PPF account may change somewhat depending on the bank. But the procedure is still the same. The main steps you must carry out in order to create your Public Provident Fund Account online are listed below:
Log in to your online banking account.

Choose the "Open a PPF account" option.

Choose "Self Account" if you are setting up the account for yourself. Choose "Minor Account" if the account is being set up for a minor.

Fill out the application form with the necessary details, including nominee information and bank information, etc.

Select the annual deposit amount you want to make, then type that amount.

Recheck that the information you've entered is correct and submit your application. You will get an OTP on the registered mobile number for transaction authorization.

You've successfully opened a PPF account after this verification has been completed. It is advisable that you write down the account number that is visible on the screen for future use.

You should get an email containing all the account information.