Because of its multiple benefits and characteristics, investing in a Public Provident Fund, or PPF, is quite popular among investors. It is also regarded as one of the most effective methods for accumulating long-term profit. Financial analysts encourage investing in PPFs since the maturity amount and all interest received throughout the investment term are tax-free. The method for investing in PPF is easy and convenient, and investors can do so either offline or online. This article will explain everything about investing in Public Provident Fund.
How to invest in PPF?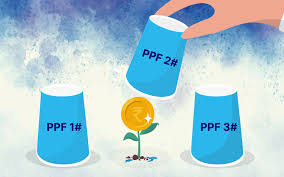 A user must open a Public Provident Fund account at a post office or a bank in order to invest in PPF. You can invest in PPF on behalf of a minor as well. Every year, you can invest in the PPF for as little as Rs. 500 or as much as Rs. 1.5 lakh (in a maximum of 12 payments). The PPF account has a fixed term of 15 years, but you can continue it for another five years. Under Section 80C of the Income Tax Act, PPF investments are deductible (ITA). 
Offline Procedure: 
The money can be deposited with cash, a check, or a demand draft.

You must complete a PPF deposit challan or Form B in order to deposit.

You must provide your name, address, Public Provident Fund account number, the amount you are investing, and the specifics of your investment strategy (cheque or cash).

The form will then be stamped by the cashier, and you'll receive your receipt.

Make sure your passbook is up to date. When you deposit a check, your passbook won't be updated until the check has been released.

The bank will promptly update your passbook if you make a cash deposit.
Online Procedure:
If your savings and Public Provident Fund accounts are both with the same bank, you can make online deposits via a funds transfer or a third-party transfer (if the accounts are in different banks).

You must add your PF account as a beneficiary in your NetBanking account before you can make an online deposit.

You may quickly transfer money using NetBanking or MobileBanking after adding your PPF account as a beneficiary.

Once you've logged into your online banking account, you must navigate to the payment area.

Then, click "third payee" and enter information such as your bank's IFSC code and PPF account number.

You will receive a code after providing the aforementioned information. You must then confirm your payee and transfer the required sum from your bank account to your PPF account using the code.

The procedure is finished after the money has been transferred.

You can check the balances in your PPF account by accessing your account statements online.
What is the interest rate?
The Ministry of Finance has maintained the 7.10 % annual interest rate for Public Provident Fund accounts for the quarter April 2022 to June 2022 of FY 2022–23.
How much can one invest in a year?
The minimum investment required to maintain an active Public Provident Fund account is 500. The maximum investment under PPF, however, is 1.5 lakhs. Additionally, a maximum of 12 PPF transactions may be made by investors in a single year.
When is the best time to invest in a PPF?
According to financial experts, the beginning of the year is the ideal time to invest in Public Provident Funds. This is due to the fact that a person choosing to invest in PPF in this way will get interest on their deposits for a full year.

It is important to keep in mind that the Public Provident Fund's interest is calculated using the minimum monthly amount between the last and fifth day of the month. Thus, it would be advisable to invest before the fifth of each month if you intend to make monthly PPF investments.